New York(NY) Pick 10 Abbreviated Lotto Wheels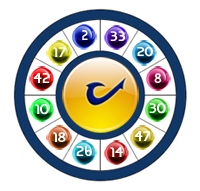 An Abbreviated Lotto Wheel is a method that offers you a minimum number of combinations for guaranteeing a win, when you match a specified amount of winning numbers. What is even better is that you are not limited at just one prize. You can use the method to maximize the number of prizes won, as well.
New York Pick 10 Abbreviated Lotto Wheel advantages:
It is economical.
While playing a large amount of numbers, you can pay less and still have at least one win guaranteed.
Also, by playing more numbers, you increase your chances of winning more than just one prize.
New York Pick 10 Abbreviated Lotto Wheel disadvantages:
Even if all the winning numbers are matched on your wheel, it is not guaranteed that you will win a jackpot. However, you could still win multiple prizes, even the jackpot - it's just not guaranteed.
New York(NY) Pick 10 Abbreviated Lotto Wheels
#
Abbreviated Wheel ID
Description
New York Pick 10

SUN

MON

TUE

WED

THU

FRI

SAT


Next Draw: Sat Sep 23, 2023