Three tickets match all 5 winning numbers in Monday nights's New York Take 5 game drawing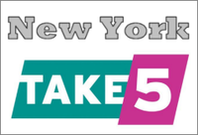 Updated: Tuesday, March 20, 2018 01:03 AM
Three tickets matched all five winning numbers in Monday's New York Take Five drawing to split the $21,204 grand prize, according to lottery officials. The Three lucky winning tickets were sold in County. The numbers from Monday, March 19th, 2018 night's drawing were 04, 07, 12, 22 and 39. The winning ticket holders are highly suggested to sign the ticket, place it in a safe place and contact lottery officials as soon as possible.
Besides the jackpot awarded on Monday, many more people took home with nice cash prizes. There were 236 lucky winners matched four of the 5 winning numbers, which won the 2nd prize in the amount of $404 cash each. Other major winners Monday night included 8351 tickets that matched 4 winning numbers only and won $19 each. With 4 different ways to win, the Monday night's drawing generated 8,590 cash winning tickets across the state of New York with a total amount of $317,624 prizes.
Take Five drawings are held every night at 11:21 PM Eastern Time. To play, pick five numbers from a set of 39. The chances of winning is about 1 to 8.77. The odds of matching all five Take 5 game numbers are 1 to 575,757. Take 5 game prizes are paid on pari-mutuel basis. The prizes vary from draw to draw. In the past 365 days, the average top prize payout was $45,143. The highest top prize payout was $85,245 in the drawing on Friday, October 6th, 2017. The lowest grand prize payout was $6,592 in the drawing on Wednesday, November 22nd, 2017, in which there were 11 grand prize winning tickets.
Tue Dec 07, 2021 Take 5 Payout
Numbers Matched
Prizes
# Winners
5 of 5
$0
0
4 of 5 + Bonus
$558
90
3 of 5
$19
2,645
2 of 5
Free Play
27,975
More Take 5 Payouts
New York Take 5

SUN

MON

TUE

WED

THU

FRI

SAT


Next Draw: Wed Dec 8, 2021