A single player walked away with $67,187 Take Five jackpot in Saturday night's drawing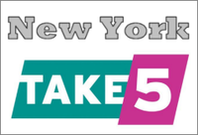 Updated: Sunday, February 19, 2017 01:16 AM
One tickets purchased in County for the New York Take Five lottery Saturday night matched all five numbers drawn. The winning numbers from Saturday, February 18th, 2017 night's drawing were 02, 04, 10, 32 and 35. The jackpot winner is highly suggested to sign the ticket, place it in a secure place and contact lottery officials as soon as possible.
Along with the top prize won on Saturday, more players walked away with nice cash prizes. There were 194 tickets correctly matched four of the five numbers and won the second prize and won $519 cash. Additional prizes won Saturday evening included 7426 tickets that matched 4 winning numbers won $23. With 4 prize levels, the Saturday night's drawing produced 7,621 cash winning tickets across the state of New York with a total amount of $334,958 prizes.
Take 5 lottery drawings are held every night at 11:21 p.m. Eastern Time. New York Take Five game uses a 5/39 matrix to randomly choose winning numbers. The odds of winning any prizes is about 1 to 8.77. The chances of matching all five New York Take 5 game numbers are about 1 in 575,757. Take 5 game prizes are paid on pari-mutuel basis. The prizes are different from draw to draw. In the past year, the average top prize payout was $45,855. The highest grand prize payout was $76,698 in the drawing on Friday, August 19th, 2016. The lowest top prize payout was $9,412 in the drawing on Saturday, November 19th, 2016, in which there were 7 grand prize winning tickets.
Sat Feb 18, 2017 Take 5 Payout
Numbers Matched
Prizes
# Winners
5 of 5
$67,187
1
4 of 5
$519
194
3 of 5
$23
7,426
2 of 5
Free Play
83,412
More Take 5 Payouts
A single player walked away with $67,187 Take Five jackpot in Saturday night's drawing


Sunday, February 19th, 2017, 01:16 AM


One tickets purchased in County for the New York Take Five lottery Saturday night matched all five numbers drawn. The winning ...... Read More »
2 winners won $36,379 Take Five game grand prize in Friday night's drawing


Saturday, February 18th, 2017, 01:13 AM


2 tickets purchased for the New York Take Five game Friday night matched all 5 numbers drawn and shared the $36,379 jackpot. The 2 ...... Read More »
3 winners hit $20,946 New York Take 5 grand prize in Thursday night's drawing


Friday, February 17th, 2017, 01:04 AM


3 tickets purchased for the New York Take 5 lottery Thursday night matched all five numbers drawn and shared the $20,946 grand ...... Read More »
A single player walked away with $63,304 New York Take 5 game top prize in Wednesday night's drawing


Thursday, February 16th, 2017, 01:29 AM


One tickets purchased in County for the New York Take Five lottery Wednesday night matched all 5 numbers drawn. The numbers from ...... Read More »
2 players won $32,299 Take Five game first prize in Tuesday night's drawing


Wednesday, February 15th, 2017, 01:01 AM


2 lucky lottery players are holding a $32,299 winning grand prize ticket from the latest New York Take 5 lottery drawing. The 2 ...... Read More »
No ticket matched all 5 numbers in Monday's Take Five drawing


Tuesday, February 14th, 2017, 01:22 AM


No player correctly matched all five numbers in Monday's Take 5 game drawing. There was no jackpot winning ticket sold in the past ...... Read More »
Nobody won the jackpot in Sunday's New York Take Five drawing


Monday, February 13th, 2017, 12:56 AM


No player won Sunday night's Take Five drawing. No one won the New York Take 5 jackpot in the past 4 draws since Thursday, ...... Read More »
Nobody hit the top prize in Saturday's Take Five drawing


Sunday, February 12th, 2017, 01:23 AM


There were no tickets sold matched all five numbers in the latest New York Take 5 lottery drawing Saturday night. There was no top ...... Read More »
Nobody won the grand prize in Take Five drawing Friday night


Saturday, February 11th, 2017, 01:34 AM


There were no Take 5 first prize winners for Friday, February 10th, 2017 drawing. The Take Five lottery first prize was just hit ...... Read More »
No one matched all five numbers in New York Take Five drawing Thursday night


Friday, February 10th, 2017, 01:25 AM


There were no tickets sold matched all five winning numbers in the last Take Five game drawing Thursday night. The Take Five ...... Read More »
New York Take 5

SUN

MON

TUE

WED

THU

FRI

SAT


Next Draw: Sun Feb 19, 2017
Home | About Us | Privacy Policy | Site Map | Terms of Use | Contact Us
NYLOTTERYX.COM is not associated with the official New York State Lottery. The information contained in this website is provided for informational purposes only. Every effort has been made to ensure that the winning numbers and other information posted on this website are accurate. No valid claim may be based on the winning numbers or other information contained on this website. NYLOTTERYX.COM makes no warranties, guarantees or representations, of any kind, express or implied, as to the content, accuracy, completeness, reliability or timeliness of the information contained in this website or in the sites of any links provided herein. The information should always be verified by contacting the Official Lottery before it is used in any way. In the event of a discrepancy between the numbers posted on this website and the official winning numbers, the official winning numbers shall control.