New York Take 5 Results, Intelligent Picks, Lotto Wheels
Updated: Thursday, December 8th, 2016 11:34 PM
New York Take 5 | NY Take 5 Results | NYlottery Take 5
#
Draw Date
Winning Numbers
Thu Dec 08, 2016
Wed Dec 07, 2016
Tue Dec 06, 2016
Mon Dec 05, 2016
Sun Dec 04, 2016
Sat Dec 03, 2016
Fri Dec 02, 2016
Thu Dec 01, 2016
Wed Nov 30, 2016
Tue Nov 29, 2016
Place mouse over or click to view


New York(NY) Take 5 Prizes and Odds

New York Take 5 News and Payout for Thursday, December 8th, 2016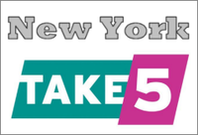 Updated: Friday, December 9, 2016 12:44 AM
One tickets purchased in County for the Take 5 Thursday night matched all five numbers drawn. The winning numbers from Thursday, December 8th, 2016 night's drawing were 01, 05, 06, 16 and 30. The winning ticket holder is encouraged to sign the ticket, put it in a safe place and get in touch with lottery officials as soon as possible.
In addition to jackpot hit on Thursday, December 8th, 2016, Take 5 lottery created a lot more happy winners. There were 320 lucky winners matched four of the 5 winning numbers, which won the 2nd prize in the amount of $297 cash each. Other prizes won Thursday night included 7834 tickets that matched 4 winning numbers won $20. With 4 different ways to win, the Thursday night's drawing created 8,155 cash winning tickets across the state of New York with a total amount of $315,184 prizes.
New York Take Five game drawings are held every night at 11:21 PM Eastern Time. To play Take Five, choose five numbers from 1 to 39. The overall odds of winning is about 1 to 8.77. The chances of winning Take 5 jackpot are about 1 in 575,757. Take 5 prizes are paid on pari-mutuel basis. The prizes could be higher or lower in each drawing. In the past 365 days, the average top prize payout was $46,117. The highest first prize payout was $78,097 in the drawing on Thursday, December 31st, 2015. The lowest jackpot payout was $7,949 in the drawing on Tuesday, January 12th, 2016, in which there were 8 jackpot winning tickets.
Click here for detailed information of New York Take 5 payout and news.
About New York Take 5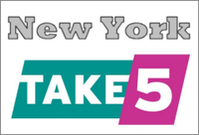 It is always an exhilarating feeling when you win a lottery that drowns you with money. New York Take 5 is from the New York lottery stable. It was begun as a once a week affair, on Fridays, way back in Jan 1992. New York Take 5 was earlier christened as New York Take Five. Now it is played daily so that you can get lucky daily!
It is even more exiting and light on the pocket when the entry fee is as less as $1!
On your luckiest day you can win a whopping $50,000 paid on pari-mutuel basis.
On a less lucky day, you might have to share the spoils!
The New York Take 5 is one of the least complicated games which even a layman can get going with. You need to place your bet on any 5 numbers between 1 through 39.
The chances of winning the top prize stand at 1 in 575,757. It is heartening to know that almost 100,000 people win the New York Take 5 daily!
How to play New York Take 5?

Obtain a playcard from the New York Lottery retailer. A play card has up to 5 games each (A, B, C, D & E).
To play New York Take 5, you should choose 5 numbers (you consider lucky or you find out from historical information) between 1 through 39. In case you are not able to decide the 5 numbers, you can use quickpick, where the computer randomly chooses the numbers for you.
The numbers are in squares, which you have to mark.
Each playcard has 5 games where each game costs $1.
Each ticket has up to 7 drawings. You can play any or all of the 7 draws. game panel consists of 10 games. There is no compulsion that all games have to be played.
Once you have filled the necessary portions in the playcard, hand it over to the New YorkTake 5 retailer. The playcard is not a valid receipt. It is only a method to present the player's choice.
You will then be provided with a ticket each for every New York Take 5 playcard.
Once you receive the ticket, ensure the correctness of your ticket for the numbers and date,before you leave the counter. New York Take 5 tickets cannot be cancelled.
Play, Win & Contribute !!!
You win the 1st prize if all you 5 numbers match, the 2nd prize if 4 numbers match, 3rd prize if 3 numbers match.
In case only 2 numbers match, you get a quick pick free play.
New York Take 5 does not offer subscriptions.
More About New York Take 5
Drawings
There is a New York Take 5 draw every night 7 days a week at 11.21 pm. The draw takes place in a special draw machine. To ensure fairness, an independent firm is engaged to audit the procedure. The draw is telecast live on TV.
Your chances of winning
The overall chance of winning the jackpot is 1 in 575,757. Overall chance of winning is 1 in 8.7.
Since its inception, New York Take 5 has had nearly 5000 draws.
There is a huge amount of information that can be analyzed from the historical results.
On close analysis, you would be able to spot a pattern in the numbers that are drawn.
Compared to other lottery games, the chances of winning New York Take 5 is quite high.
Probability will help you identify the most possible wins.
Prize Money
New York Take 5 could one of the very few lottery draws where 50% of the collection is provided as prize money.
The jackpot would fetch you a whopping $57,575.70.
The 2nd prize would fetch you $508.02.
The 3rd prize would fetch you $25.66
The 4th prize would fetch you a Quick Pick Free Play.
The prize for one draw is never carried over to the next draw.
Prize money should be availed within 1 year of the draw.
Prize money is always rounded to the nearest 50 cents.
The income earned through New York Take 5 is taxable if income is above $600.
If prize is greater than $5,000, you would have to pay 25% federal tax.
Methods to enhance probability of winning New York Take 5
NYLOTTERYX.COM provides immense information on New York Take 5. Few methods available on this website that helps you to devise a strategy are:
Theoretically, every number should be drawn once in every 7 to 8 draws. But lottery is more towards being lucky and hence some numbers could appear more often than the other numbers. The overdue chart provides information on those numbers that have not been drawn for the past # of draws. This helps players to choose the numbers wisely to win New York Take lottery.
Skip and Hit analysis - This report provides historical information on the winning patterns of a specific number as per the latest draw.
50 Most Winning Pairs and 50 Least Winning Pairs.
The News & Payout section furnishes information on the events & happenings along with the details of prize money won.
Lotto Wheel - There are many methods employed to win lottery games. Lotto wheel is one such effective method used by experienced players. It enhances the probability of winning. The strategy used by the Lotto Wheel has been proven mathematically. All you need is to arrange the numbers from possible combinations in a way which would aid you guess the winning numbers.
Power Picks - Once you choose / identify your 5 lucky numbers, power pick will help you by creating number combination using the same numbers. In case you do not have any lucky numbers, you can use numbers from your daily life like date of birth, wedding anniversary, license plate, home address etc
New York Take 5 Intelligent Combo Generator . This module generates the most successful combinations from the past 50 draws. It also provides hot numbers and overdue numbers.
New York Take 5

SUN

MON

TUE

WED

THU

FRI

SAT


Next Draw: Fri Dec 9, 2016