New York Sweet Million Results, Intelligent Picks, Lotto Wheels
Updated: Thursday, March 6th, 2014 09:27 PM
New York Sweet Million | NY Sweet Million Results | NYlottery Sweet Million
#
Draw Date
Winning Numbers
Thu Mar 06, 2014
Mon Mar 03, 2014
Thu Feb 27, 2014
Mon Feb 24, 2014
Thu Feb 20, 2014
Mon Feb 17, 2014
Thu Feb 13, 2014
Mon Feb 10, 2014
Thu Feb 06, 2014
Mon Feb 03, 2014
Place mouse over or click to view


New York(NY) Sweet Million Prizes and Odds

New York Sweet Million News and Payout for Thursday, March 6th, 2014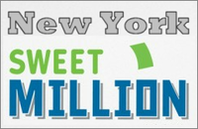 Updated: Friday, March 7, 2014 01:37 AM
There were no New York Sweet Million top prize winners for Thursday, March 6th, 2014 drawing. The Sweet Million lottery top prize was just hit not long ago. The last first prize was won by one lucky ticket sold in Columbia County, matched all 6 winning numbers for $1 million cash.
Although the grand prize was not awarded Thursday evening, some luck people still walked away with good winnings. There were 19 second prize winning tickets sold Thursday night's drawing, matching 5 out of the six winning numbers. Other major winners Thursday evening included 714 tickets that matched four winning numbers only and won $40 each. With 4 ways to win, the Thursday night's drawing generated 10,395 winning tickets across the state of New York with a total amount of $67,046 prizes.
New York Sweet Million game drawings are held 2 times a week every Monday and Thurday night at 9:30 PM Eastern Time. Sweet Million game uses a 6/40 matrix to randomly pick winning numbers. The odds of winning any prizes is about 1 to 30. The odds of matching 6 New York Sweet Million game numbers are about 1 in 3.83 million. Among all New York lottery games, Sweet Million offers the best chance for players to win a million dollar cash for only one buck. New York Sweet Million prize values are fixed. Nevertheless, in the event there are over 5 first prize winners in one draw, all the winners will equally split $5 million.
Click here for detailed information of New York Sweet Million payout and news.
About New York Sweet Million
The New York Sweet Million is one of the least complicated games which even a layman can get going with. The victory is as sweet as the name suggests. You stand to win a mouth watering million bucks.
You need to place your bet on any 6 numbers between 1 through 40.
A match on all 6 numbers ensures the 1st prize.
The New York Sweet Million jackpot prize is a mind boggling $1,000,000. In an unusual event of more than 5 winners, the winners will equally share prize money.
The chances of winning the top prize stand at 1 in 3838380.
The draw method in the case of New York Sweet Million is Mechanical Lottery Ball Machine. Drawings are twice a week, Monday and Thursday at 9:30 p.m.
You must be at least 18 years old and 21 in case you play New York Sweet Million in a premise where alcohol is served. The New York Sweet Million is part of the New York Lottery that began in the US in 1967.
Earlier, lotteries were used to raise fund for building infrastructure, and religious needs. In order to contribute to the society at large the proceeds in this case was for educational purpose. It is quite exciting and light on the pocket when the entry fee is as less as $1!
On your luckiest day you can win a whopping million bucks paid on pari-mutuel basis.
On a less lucky day, you might have to share the spoils!
In short New York Sweet Million is a great and simple way to mint money!
The lucky triumphant numbers are selected randomly from a pool of 40 under the surveillance of an autonomous firm.
How to play New York Sweet Million?

Visit your nearest New York Lottery retailer.
Obtain a play card from the retailer.
A New York Sweet Million play card has up to 10 games each (Play 1 to Play 10).
You should choose 6 numbers (you consider lucky or you find out from historical information) between 1 through 40. In case you are not able to decide the 6 numbers, you can use quick pick, where the computer randomly chooses the numbers for you.
The numbers are in squares, which you have to mark.
Each New York Sweet Million play card has 10 games where each game costs $1 and 8 games in advance.
There is no compulsion that all games have to be played.
Once you have filled the necessary portions in the play card, hand it over to the New York Lottery retailer. The play card is not a valid receipt. It is only a method to present the player's choice.
You will then be provided with a ticket each for every New York Sweet Million play card.
Once you receive the ticket, ensure the correctness of your ticket for the numbers and date, before you leave the counter. New York Sweet Million tickets cannot be cancelled.
Play New York Sweet Million, Win & Contribute !!!
You win the 1st prize if all you 6 numbers match, the 2nd prize if 5 numbers match, 3rd prize if 4 numbers match 4th prize if 3 numbers match.
New York Sweet Million does not offer subscriptions.
More About New York Sweet Million
Your chances of winning
The overall chance of winning the New York Sweet Million jackpot is 1 in 3,838,380.
The overall chance of winning is 1 in 29.92.
Prize Money
All prizes are in cash only. There could be more than one player who wins $1,000,000 for each draw.
This could one of the very few lottery draws where 49% of the collection is provided as prize money.
The New York Sweet Million jackpot would fetch you a whopping $1,000,000 cash.
The 2nd prize would fetch you $500 cash
The 3rd prize would fetch you $40 cash
The 4th prize would fetch you $3 cash.
The prize for one draw is never carried over to the next draw.
Prize money should be availed within 1 year of the draw.
The income earned through New York Sweet Million is taxable if income is above $600.
If prize is greater than $5,000, you would have to pay 25% federal tax.
Methods to enhance probability of winning New York Sweet Million
Few methods available on this website that helps you to devise a strategy are:
Theoretically, every number should be drawn once in every certain # of draws. But lottery is more towards being lucky and hence some numbers could appear more often than the other numbers. The overdue chart provides information on those numbers that have not been drawn for the past # of draws. This helps players to choose the numbers wisely.
Skip and Hit analysis - This report provides historical information on the winning patterns of a specific number as per the latest draw.
50 Most Winning Pairs and 50 Least Winning Pairs.
Lucky Sum Analysis
The News & Payout section furnishes information on the events & happenings along with the details of prize money won.
Lotto Wheel - There are many methods employed to win lottery games. Lotto wheel is one such effective method used by experienced players. It enhances the probability of winning. The strategy used by the Lotto Wheel has been proven mathematically. All you need is to arrange the numbers from possible combinations in a way which would aid you guess the winning numbers.
Power Picks - Once you choose / identify your 6 lucky numbers, power pick will help you by creating number combination using the same numbers. In case you do not have any lucky numbers, you can use numbers from your daily life like date of birth, wedding anniversary, license plate, home address etc
New York Sweet Million Intelligent Combo Generator - This module generates the most successful combinations from the past 50 draws. It also provides hot numbers and overdue numbers.
The Frequency Chart offers valuable information on every number of New York Sweet Million lottery's past 100 draws. There are hot numbers and cold numbers. Experienced New York Sweet Million lottery players combine hot and cold numbers in order to arrive at winning combinations. You too can make use of the hot and cold numbers generated by the Frequency Chart to have a better chance of winning. Also, this in combination with Power Picks is a even more ideal.
New York Sweet Million
SUN

MON

TUE WED

THU

FRI SAT


Next Draw: Mon Mar 10, 2014
All Jackpots: $1 Million Cash