Wednesday's Powerball jackpot breaks to $222 million; Four tickets matched the first 5 numbers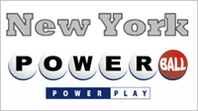 Updated: Sunday, June 26, 2016 01:20 AM
The jackpot in America's favorite Powerball lottery is on the move. Since no player correctly matched all 6 winning numbers in Saturday's drawing, the grand prize will increase to $222 million! The lump-sum cash payout stands at an estimated $151.5 million. The numbers drawn Saturday night, June 25th, 2016 were 03, 27, 36, 56, 69 with Power Ball number 25.
Though there was no grand prize winner Saturday evening, some players still walked away with huge prizes. There were four tickets that correctly matched all five white ball numbers and won the 2nd prize. The four lucky ticket(s) bought in Louisiana(1), New York(1), Oregon(1) and West Virginia(1), each won $1,000,000 cash by matching all 5 white ball numbers.
Other prizes won Saturday night included 15 tickets that matched 4 white numbers as well as the Powerball and won $10,000. 4 additional tickets at this prize level were also wisely purchased with the Power Play option that multiplied winnings 4 times to $40,000 cash! In addition, 388 tickets matched 4 of the 5 lotto numbers. Those tickets are each worth $100. There were 90 tickets matched 4 white ball with Power Play option, doubled the winnings to a total win of $200 each! 1011 tickets matched three of the five lotto numbers, plus the Powerball number. These tickets are also each worth $100. There were 256 tickets matched 3+1 with Power Play option, doubled the winnings to win a total win of $200 each.
There were 61,463 Powewrball winning tickets sold in the state of New York. The lucky New York ticket won the second prize was sold from . A single ticket sold in New York matched 4 lotto numbers as well as the Powerball. The lucky ticket holder will collect $10,000 cash. There were 132 lucky New York players won $100 prize by matching 4 or 3+1 numbers. There were 10 lucky New Yorkers won $200 prize by matching 4 or 3+1 numbers with Power Play purchased.
With 9 different ways to win, there were 775,220 tickets nationwide won a total of $9,255,095 prizes in the Saturday, June 25th, 2016 drawing.
America's favorite Powerball is played in 42 states, D.C. and the US Virgin Islands. The overall odds of winning any prizes is about 1 to 32. The odds of matching 6 Powerball numbers are about 1 in 292 million. The minimum Powerball advertised grand prize is 40 million dollar. Its annuity option is paid in 30 yearly increment installments in 29 years. Winners can choose one lump-sum cash payout option instead.
Sat Jun 25, 2016 Powerball Payout of U.S.
Numbers Matched
Prizes
# Winners
5 of 5 + Powerball(Jackpot)
$203,000,000
0
5 of 5
$1,000,000
4
Louisiana-1
New York-1
Oregon-1
West Virginia-1

4 of 5 + Powerball
$50,000
15
4 of 5
$100
388
3 of 5 + Powerball
$100
1,011
3 of 5
$7
25,473
2 of 5 + Powerball
$7
21,262
1 of 5 + Powerball
$4
168,730
Powerball Only
$4
408,672
Sat Jun 25, 2016 Powerball Payout of US(with PowerPlay)
Numbers Matched
Prizes
# Winners
5 of 5
$2,000,000
0
4 of 5 + Powerball
$100,000
4
4 of 5
$200
90
3 of 5 + Powerball
$200
256
3 of 5
$14
5,722
2 of 5 + Powerball
$14
5,065
1 of 5 + Powerball
$8
40,064
Powerball Only
$8
98,464
Sat Jun 25, 2016 Powerball Payout of New York(w/o PowerPlay)
Numbers Matched
Prizes
# Winners
5 of 5 + Powerball(Jackpot)
$0
0
5 of 5
$1,000,000
1
4 of 5 + Powerball
$50,000
1
4 of 5
$100
34
3 of 5 + Powerball
$100
98
3 of 5
$7
2,318
2 of 5 + Powerball
$7
1,935
1 of 5 + Powerball
$4
15,118
Powerball Only
$4
36,985
Sat Jun 25, 2016 Powerball Payout of New York(with PowerPlay)
Numbers Matched
Prizes
# Winners
5 of 5
$2,000,000
0
4 of 5 + Powerball
$100,000
0
4 of 5
$200
2
3 of 5 + Powerball
$200
8
3 of 5
$14
178
2 of 5 + Powerball
$14
191
1 of 5 + Powerball
$8
1,303
Powerball Only
$8
3,291
More Powerball Payouts
Wednesday's Powerball jackpot breaks to $222 million; Four tickets matched the first 5 numbers


Sunday, June 26th, 2016, 01:20 AM


The jackpot in America's favorite Powerball lottery is on the move. Since no player correctly matched all 6 winning numbers in ...... Read More »
No ticket matched all 6 numbers last night. Powerball jackpot moves to $203 million


Thursday, June 23rd, 2016, 01:15 AM


Saturday's Powerball grand prize leaped to $203 million, since no player hit all 5 lotto numbers plus the Powerball number drawn ...... Read More »
Wednesday's Powerball jackpot increases to $184 million; Three second prize tickets sold


Sunday, June 19th, 2016, 01:54 AM


No one won Saturday night's Powerball game drawing, worth $169 million, bringing the estimated jackpot on Wednesday to $184 ...... Read More »
Powerball jackpot climbs to $169 million Saturday night; 2 second prize tickets sold


Thursday, June 16th, 2016, 01:48 AM


The Powerball jackpot has jumped up to a projected $169 million (cash value $114.2 million) for the next drawing in the multistate ...... Read More »
Wednesday's Powerball jackpot goes to $153 million; Two tickets matched the first 5 numbers


Sunday, June 12th, 2016, 12:42 AM


The projected jackpot for Saturday night's drawing was $141 million. According to Powerball, nobody hit every number and the grand ...... Read More »
No jackpot winning ticket sold last night. Saturday's Powerball jackpot increases to $141 million


Thursday, June 9th, 2016, 01:31 AM


No one hit all the Powerball 6 numbers for Wednesday, June 8th, 2016 (that includes you) so $123 million grand prize will keep ...... Read More »
No jackpot ticket sold. Wednesday's Powerball jackpot breaks to $123 million


Sunday, June 5th, 2016, 01:35 AM


The Powerball lottery jackpot is on the move again. The jackpot for the Wednesday, June 8th, 2016 drawing goes to $123 million ...... Read More »
Powerball jackpot rolls up to $110 million Saturday, June 4th, 2016; Two second prize tickets sold


Thursday, June 2nd, 2016, 01:43 AM


There were no tickets sold with all 5 lotto numbers plus the Powerball number in the last multi-state Powerball draw, and the ...... Read More »
Wednesday's Powerball jackpot rolls up to $100 million; One player won the second prize


Sunday, May 29th, 2016, 12:56 AM


The jackpot in the Powerball multi-state lottery game has been increased to $100 million. The lump-sum cash payout stands at $65.5 ...... Read More »
No jackpot ticket sold. Powerball jackpot climbs to $90 million Saturday, May 28th, 2016


Thursday, May 26th, 2016, 01:33 AM


The Powerball multi-state lottery jackpot jumped to $90 million (cash value $58.7 million) Saturday night when there were no ...... Read More »
New York Powerball
SUN MON TUE

WED

THU FRI

SAT


Next Draw: Wed Jun 29, 2016
$222.00 Million
Change: +$19.00 Million