New York Pick 10 Results, Intelligent Picks, Lotto Wheels
Updated: Saturday, May 23rd, 2015 10:09 PM
New York Pick 10 | NY Pick 10 Results | NYlottery Pick 10
#
Draw Date
Winning Numbers
Sat May 23, 2015
Fri May 22, 2015
Thu May 21, 2015
Wed May 20, 2015
Tue May 19, 2015
Mon May 18, 2015
Sun May 17, 2015
Sat May 16, 2015
Fri May 15, 2015
Thu May 14, 2015
Place mouse over or click to view


New York(NY) Pick 10 Prizes and Odds

New York Pick 10 News and Payout for Saturday, May 23rd, 2015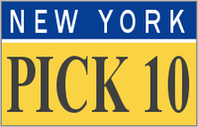 Updated: Sunday, May 24, 2015 01:29 AM
No player won Saturday night's Pick Ten game drawing. The numbers drawn Saturday night, May 23rd, 2015 were 02, 05, 07, 09, 11, 13, 26, 35, 36, 43, 45, 52, 55, 56, 59, 66, 67, 69, 75 and 78. Pick Ten lottery first prize has not been won for 1056 draws since Monday, July 2nd, 2012. A single lucky winner took home $500,000 cash grand prize in Sunday, July 1st, 2012 drawing.
Though there was no jackpot winner Saturday evening, New York Pick 10 had some happy winners. There was only one second prize winner sold from Saturday night's drawing, matching nine out of the 10 winning numbers and walked away with $6,000. Additional prizes won Saturday night included 6 tickets that matched 8 winning numbers only and won $300 each. A total of 129 lucky tickets won the 4th prize and each collected $40 cash. With 6 different ways to win, there were a total of 4,334 tickets sold across the state of New York won $35,230 prizes in the Saturday, May 23rd, 2015 drawing.
Pick 10 lottery drawings occur every night at 7:30 PM Eastern Time. It costs 1 dollar per game. Player can play up to 5 games for $5 on each play card. To play New York Pick 10 game, go to any lottery retailer. Pick up a playcard and pick 10 numbers from 1 through 80. The odds of winning any prizes is about 1 to 17. The odds of matching all ten Pick 10 game numbers are 1 to 8,911,711. Pick Ten game prize values are predetermined. Nevertheless, in the event there are more than ten first prize winners in one draw, all the winners will equally share a total of five million dollar in accordance with New York Lottery rules and regulations..
Click here for detailed information of New York Pick 10 payout and news.
About New York Pick 10 Lottery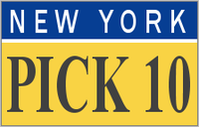 The more the number of digits / numbers in your lottery, the more you stand to win a chance. New York Pick 10 lets you place a bet on 10 numbers.
New York Pick 10 is a lottery game in the New York Lottery stable which was started in August 2001. It is a game where the player places bet on 10 numbers that starts from 1 until 80 after which the lottery picks 20 numbers. In case the 10 numbers you chose is part of the 20 numbers drawn, you win. The initial or the least play starts with $1 for a single game. Each draw takes place at 7.30 PM and is conducted 7 days a week.
$500,000 cash is the jackpot sum. The chances of winning the jackpot are considered to be one in 8,911,711.
New York Pick 10 is an "In-House Draw Daily Game" among the various games offered by New York Lottery. The proceeds from this game also aid education.
How to play New York Pick 10?
Visit your nearest New York Lottery retailer and tell him that you would like to play Pick 10.
Ask for a New York Pick 10 play card.
A play card has 5 games each (A, B, C, D & E).
New York Pick 10 game panel contains 80 squares numbered 1 through 80.
Place bet on 10 numbers from 1 to 80. in each game in the placard. Each game has numbers 1 to 80. You can either explicitly bet on 10 numbers (considered lucky) or in case you are not able to decide the 10 numbers, you can use quick pick, where the computer chooses the digits randomly.
Each game costs $1.
There are a total of 7 drawings and you can play either in advance, all on one ticket
You may also mark the number of days in case you want to play for more than 1 day..
Once the above info is marked in the play card, mark the number of tickets needed and the number of days that you wish to play. You can get separate tickets for each draw of New York Pick 10.
Once you have filled the necessary portions in the play card, hand it over to the New York Lottery retailer. The play card is not a valid receipt. It is only a method to present the player's choice.
You will then be provided with a ticket each for every New York Pick 10 game that you wish to play.
Play and Count your monies!!!
New York Pick 10 does not offer subscriptions.
More About New York Pick 10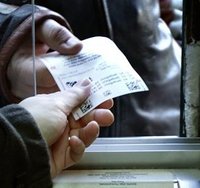 Drawings
There is a New York Pick 10 draw every night 7 days a week at 7.30 pm.
In order to ensure transparency & fair play, an independent audit firm is engaged to monitor the whole process.
Your chances of winning
The overall chance of winning the New York Pick 10 jackpot is 1 in 8,911,711. Overall chance of winning is 1 in 17.
Prize Money
The jackpot would fetch you a whopping $500,000.
The 2nd prize would fetch you $6,000.
The 3rd prize would fetch you $300
The 4th prize would fetch you $40.
The 5th prize would fetch you $10
The 6th prize would fetch you $4
The prize for one draw is never carried over to the next draw.
Prize money should be availed within 1 year of the draw.
Prize money is always rounded to the nearest whole number.
The income earned through New York Pick 10 is taxable if income is above $600.
If prize is greater than $5,000, you would have to pay 25% federal tax.
In case your prize money is less than $600, you can collect it from the New York Lottery retailer within 45 days of the draw else it can be claimed from any of the New York Lottery Regional Customer Service Center.
Validity period of ticket is 1 year.
Prize money is taxable since it is considered to be a source of income.
A Pick-10 reserve is usually created utilising the funds made available after the draw, where the total prizes paid are less than the 40% prize pool. Such reserve may be used to increase any or all prize levels, either permanently or for a certain period of time
40% of the net sales is put back in to the pool for prizes
New York Pick 10 is operated at 2 separate computer systems that cannot communicate with each other. Hence a winning ticket purchased at one terminal cannot be cashed at the other system. To distinguish between the tickets sold at each system, the tickets are printed using blue-letters and green-letters respectively.
If there are more than 10 jackpot winners, the winners will share the whole jackpot of $5,000,000 as per the New York Lottery rules and regulations.
NYLOTTERYX.COM provides immense information on New York Pick 10. Few reports available on this website that helps you to devise a strategy are:
Overdue Chart - The overdue chart provides information on those numbers that have not been drawn for the past # of draws. This helps players to choose the numbers wisely to win New York Pick 10 prizes.
Skip and Hit analysis - This report provides historical information on the winning patterns of a specific number as per the latest draw.
.50 Most Winning Pairs and 50 Least Winning Pairs.
The News & Payout section furnishes information on the events & happenings along with the details of prize money won.
Power Picks - Once you choose / identify your New York Pick 10 lucky numbers, power pick will help you by creating number combination using the same numbers. In case you do not have any lucky numbers, you can use numbers from your daily life like date of birth, wedding anniversary, license plate, home address etc.
New York Pick 10 Intelligent Combo Generator - This module generates the most successful combinations from the past 50 draws. It also provides hot numbers and overdue numbers.
New York Pick 10

SUN

MON

TUE

WED

THU

FRI

SAT


Next Draw: Sun May 24, 2015