Evening Numbers game payout for Tuesday, December 10th, 2013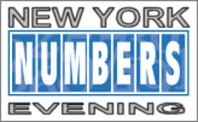 Updated: Wednesday, December 11, 2013 01:03 AM
The New York Evening Numbers game winning numbers for the Tuesday, December 10th, 2013 drawing were 5, 9, 5 and lucky sum was 19. The next Evening Numbers lottery drawing is going to be 7:30 p.m., Wednesday, December 11th, 2013, Eastern Time.
There were 1,209 winners share a total of$263,482 prizes in Tuesday, December 10th, 2013 drawing for Evening Numbers . Detailed payout is listed below:
194 ticket(s) won Straight Play prize.
320 ticket(s) won Box Play prize.
22 ticket(s) won Front Pair prize.
26 ticket(s) won Back Pair prize.
168 ticket(s) won Straight/Box with Exact Hit.
303 ticket(s) won Straight/Box with Box Hit.
159 ticket(s) won Combination Play prize.
17 ticket(s) won Lucky Sum prize with $11.00 payout per ticket.
Evening Numbers lottery drawings are held 7 days a week around 7:30 p.m. Eastern Time. To play New York Evening Numbers lottery, go to any lottery retailer, pick a New York Evening Numbers play slip, which has four games on each panel. You may play 1, 2, 3, or 4 games. Choose three digit numbers in each game you want to play. Inside each game panle, pick a wager type from one below:
Straight
Box
Straight/Box
Combination
To understand the wager types, you can ask the retailer for a Evening Numbers lottery brochure where complete explanations of bet types can be found. You can play up to ten tickets per game panel. Use only blue or black pen or pencil to mark with heavy vertical marks. If you are not able to think of the numbers to play, you can just mark the Quick Pick to have numbers picked for you randomly. After you are done, pass your marked playcard to the lottery retailer for processing.
More Numbers Evening Payouts
Evening Numbers game payout for Tuesday, December 10th, 2013


Wednesday, December 11th, 2013, 01:03 AM


The New York Evening Numbers game winning numbers for the Tuesday, December 10th, 2013 drawing were 5, 9, 5 and lucky sum was 19. ...... Read More »
New York Numbers game Payout for Monday, December 9th, 2013 Evening Drawing


Tuesday, December 10th, 2013, 01:21 AM


The New York Evening Numbers lottery winning numbers for the Monday, December 9th, 2013 drawing were 1 7 3 with lucky sum 11. The ...... Read More »
Prize Payout of New York Evening Numbers Sunday, December 8th, 2013 Drawing


Monday, December 9th, 2013, 12:48 AM


The winning numbers of Evening Numbers lottery for Sunday, December 8th, 2013 were 6 5 5 and lucky sum was 16. The next New York ...... Read More »
Prize Payout of Evening Numbers lottery Saturday, December 7th, 2013 Drawing


Sunday, December 8th, 2013, 12:45 AM


The winning numbers from New York Numbers Evening drawing for Saturday, December 7th, 2013 were 8, 8, 7 with lucky sum 23. The ...... Read More »
Evening Numbers payout for Friday, December 6th, 2013


Saturday, December 7th, 2013, 01:53 AM


The numbers drawn Friday, December 6th, 2013 for New York Evening Numbers game were 6, 3, 1 with lucky sum 10. The next New York ...... Read More »
New York Numbers game Prize Payout for Thursday, December 5th, 2013 Evening Drawing


Friday, December 6th, 2013, 12:42 AM


The winning numbers from New York Numbers Evening drawing for Thursday, December 5th, 2013 were 1, 8, 4 and lucky sum was 13. The ...... Read More »
New York Numbers lottery Payout for Wednesday, December 4th, 2013 Evening Drawing


Thursday, December 5th, 2013, 01:06 AM


The winning numbers from New York Numbers Evening drawing for Wednesday, December 4th, 2013 were 5-0-5 with lucky sum 10. The next ...... Read More »
New York Numbers Prize Payout for Tuesday, December 3rd, 2013 Evening Drawing


Wednesday, December 4th, 2013, 12:33 AM


The winning numbers from New York Numbers Evening drawing for Tuesday, December 3rd, 2013 were 264 with lucky sum 12. The next New ...... Read More »
Payout of Evening Numbers game Monday, December 2nd, 2013 Drawing


Tuesday, December 3rd, 2013, 12:37 AM


The winning numbers from New York Numbers Evening drawing for Monday, December 2nd, 2013 were 9 8 3 with lucky sum 20. The next ...... Read More »
Payout of New York Evening Numbers game Sunday, December 1st, 2013 Drawing


Monday, December 2nd, 2013, 12:52 AM


The numbers drawn Sunday, December 1st, 2013 for New York Evening Numbers were 7-9-3 with lucky sum 19. The next New York Evening ...... Read More »
New York Numbers

SUN

MON

TUE

WED

THU

FRI

SAT


Numbers Midday
Next Draw: Wed Dec 11, 2013
Numbers Evening
Next Draw: Wed Dec 11, 2013
Home | About Us | Privacy Policy | Site Map | Terms of Use | Contact Us
NYLOTTERYX.COM is not associated with the official New York State Lottery. The information contained in this website is provided for informational purposes only. Every effort has been made to ensure that the winning numbers and other information posted on this website are accurate. No valid claim may be based on the winning numbers or other information contained on this website. NYLOTTERYX.COM makes no warranties, guarantees or representations, of any kind, express or implied, as to the content, accuracy, completeness, reliability or timeliness of the information contained in this website or in the sites of any links provided herein. The information should always be verified by contacting the Official Lottery before it is used in any way. In the event of a discrepancy between the numbers posted on this website and the official winning numbers, the official winning numbers shall control.