New York MEGA Millions Results, Intelligent Picks, Lotto Wheels
Updated: Wednesday, December 31st, 1969 07:00 PM
Mega Millions | NYlottery Mega Millions
#
Draw Date
Winning Numbers
Mega Ball
Megaplier
Fri Jul 19, 2019
Tue Jul 16, 2019
Fri Jul 12, 2019
Tue Jul 09, 2019
Fri Jul 05, 2019
Tue Jul 02, 2019
Fri Jun 28, 2019
Tue Jun 25, 2019
Fri Jun 21, 2019
Tue Jun 18, 2019
Place mouse over or click to view


New York(NY) MEGA Millions Prizes and Odds

New York MEGA Millions News and Payout for Friday, July 19th, 2019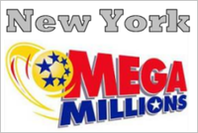 Updated: Saturday, July 20, 2019 01:07 AM
The jackpot in America's favorite Mega Millions lottery game continues to increase exciting players all across the country. Because no one correctly hit all 5 white ball numbers and the Mega Ball number in Tuesday's drawing the grand prize will build to an estimated $168 million! The cash value will be a projected $108.8 million. The winning numbers from Friday, July 19th, 2019 drawing were 16, 18, 28, 33, 67 with Mega Ball number 14 and Megaplier x3. Nobody won the Mega Millions jackpot in the past 600 draws since Friday, October 4th, 2013.The last jackpot was won by a lucky ticket sold in Maryland, matched all six numbers for a $189 million top prize.
Even though the jackpot was not awarded Friday evening, some people still walked away with huge prizes. A total of 12 lucky tickets won the 3rd prize. Among them, 12 tickets matched four of the five lotto numbers, as well as the Mega Ball number. Those tickets are each worth $10,000.
Additional prizes won Friday night included 320 tickets that matched four white numbers and won $500. Other prizes won included 840 tickets that matched 3 white numbers together with Mega Ball and won $200.
There were 116,796 Mega Millions winning tickets sold in the state of New York. There were 58398 grand prize winning tickets sold in the state of New York.
With nine ways to win, there were 1,275,792 winning tickets sold across the nation in the Friday, July 19th, 2019 drawing.
Mega Millions is one of the most popular lottery games in the U.S. can be played in 44 participating states as a shared jackpot game. It holds the record highest jackpot in United States lottery history. Around 50% of the Mega Millions sales goes back on the players in prizes. About 15% is used to as commission of retailers and lottery operation expenses. Around 35% total sales is used to support government services, education and charities in the participating lottery states. Each play costs $1. In some states, players can choose to pay $1 extra to purchase the Megaplier, which multiplies the prizes 2 to 5 times except jackpot. The chances of winning is about 1 to 14. The odds of matching all six Mega Millions numbers are 1 to 302,575,350. The minimum Mega Millions advertised jackpot starts at $40,000,000. Its annuity option is paid in 30 equal annual installments. Winners can choose one-time lump-sum cash payout option instead.
Click here for detailed information of New York MEGA Millions payout and news.
About New York Mega Millions
Dedicated lottery players in New York can try their hand at earning a quick buck (and more) with the New York Mega Millions lottery. This is a very popular lottery because it gives back around half of its sales to players in the form of prizes. The New York Mega Millions lottery draws take place twice weekly, on Tuesdays and Fridays. They happen at 10:59 PM Eastern Time and they are widely awaited events because of the immense amount of money involved. Launched in May 2002, this lottery has seen its popularity increasing in leaps and bounds.
Each New York Mega Millions game costs only $1. However, the least amount of the Mega Millions jackpot is a very substantial $12 million. A winner has the option of taking the money away at one go in the form of a cash pay-out option or in equal yearly payments spread over 26 years.
There is no doubt about the fact that that Mega Millions is the largest jackpot games in the United States. Millions of dedicated gamblers play this lottery and this takes the jackpots to amazingly high levels. 42 different states in the US have their own Mega Millions over and above which they are also available in the District of Columbia and the U. S. Virgin Islands. As a matter of fact, the record for the largest jackpot in the history of US lotteries, $656 million, goes to Mega Millions.
Like the other lotteries in this consortium, the New York Mega Millions also gives back around 35% of its total sales to the community. This money is used to support various charities and educational organizations in addition to a number of government services. The amount of money is immense in this case, making New York Mega Millions a very important contributor to the upkeep of the community.
How to play New York Mega Millions?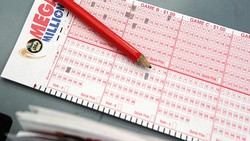 You start by getting a New York Mega Millions ticket. Since there are around 16000 retailers selling lottery tickets in the state of New York, it is very easy to get a playcard for this lottery. Each play costs for $1.
Each playcard of the New York Mega Millions lottery has 5 game panels. The upper section is pink in color whereas the lower section is white. You need to choose a total of 6 numbers in order to play this lottery. 5 numbers ranging from 1 to 56 have to be chosen from the pink section. The 6th one is a MEGABALL number and it has to be selected from the white section from a range of 1 to 46.
If you want to leave things entirely in the hands of fate then you should opt for QUICK PICKwhereby the computer will make a random selection of numbers for you for your New York Mega Millions playcard.
You'll need to fill in the numbers of your choice on the New York Mega Millions game panel using a pen with either blue or black ink or with a pencil. Keep in mind that you will not be permitted to erase anything even if you have made a mistake.
In case you have made a mistake then you should VOID that game by using the box provided for that purpose. You can then proceed to the next game if you are still interested in continuing.

You can keep using the same set of numbers repeatedly in different New York Mega Millionsdraws. If you want to play consecutive games then you can make use of the MULTIDRAW feature. If you use this column then you can choose a maximum of 26 draws in succession. You'll just have to pay $1 for each game.
You'll need to give your filled in New York Mega Millions play card to the retailer so that it can be processed. You will be handed an individual ticket as acknowledgement for each one that is processed.
New York Mega Millions tickets cannot be returned once they have been sold. You therefore need to check any ticket before you purchase it, paying close attention to the date and numbers.
You can choose your payout in the form of cash or annuity once you have won a New York Mega Millions prize and not before. You have 60 days after winning the prize to decide how you would like the money paid to you.
The New York Mega Millions price can be shared by a group of people as long as they inform the company about this requirement.
You can play the New York Mega Million lottery on any day you want between 4am and 3.30am. On draw nights of Tuesdays and Fridays, you can buy the tickets until 10.45 pm. However, it is best to expect long queues of people waiting to play and come sufficiently early.
More About New York Mega Millions
What is Megapiler?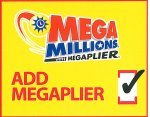 This is an interesting feature of the New York Mega Millions lottery whereby you can multiply your prize. You have to choose the Megapiler option when you buy the ticket and will have to pay an extra $1 for it. The number for Megapiler is chosen at random at the beginning of each draw. If you are lucky you can multiply your winnings by 2, 3 or 4. However, this option is not available for jackpots.
Play New York Mega Millions in Advance
The MULTIDRAWS feature of the New York Mega Millions lottery enables you to play as long as 13 weeks ahead on a draw. You can use the same numbers on 2, 3, 4, 5, 10, 15 or 26 consecutive draws if you so wish. The QUICK PICK feature allows you to pick numbers very quickly and completely at random in case you don't want to choose the numbers yourself.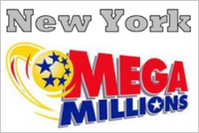 You do not have to be a resident of New York in order to play the immensely popular New York Mega Millions lottery. However, you need to check whether your state lottery whether this is possible.
The winnings are considered as income and are therefore taxable.
You have to look after your ticket or else someone else will be able to use it. Sign behind it in order to claim ownership of it.
New York MEGA Millions
SUN MON

TUE

WED THU

FRI

SAT


Next Draw: Tue Jul 23, 2019
$168.00 Million
Change: +$14.00 Million